Preparing for the 2015 RWC: Japan – A Guide to the Japan national rugby team's World Cup preparations
It comes as a surprise to many that Japan has a long history as a rugby-playing nation and, in fact, has almost as many registered players (just over 122,000) as current world champions New Zealand (146,000). Geographical isolation and competition from other sports, however, has meant that development of the game has been stunted in recent years. But now that Japan has secured hosting rights for the 2019 Rugby World Cup, the profile of the game is sure to rise and fans will be hoping the national squad will come on leaps and bounds. This year's Rugby World Cup is a different story and the Cherry Blossoms will be hoping to upset some of the game's biggest teams during the tournament's group stages.
RWC history
Currently ranked 11th in the IRB World Rugby Rankings, Japan has appeared in all the RWC tournaments since the first in 1987. The 'Cherry Blossoms' or 'Brave Blossoms', as the side is nicknamed, have not experienced as much RWC success as they'd hoped, with only one win (against Zimbabwe in 1991 and two draws (against Canada in 2007 and 2011).
The side has been coached by Australian Eddie Jones since 2012 following the departure of John Kirwan. He inherited a side that won its first Pacific Nations Cup in 2011 but will be hoping to turn around the poor RWC performances.
Results from recent matches suggest that this year might see some improvement as, in the last 12 months, Japan has beaten Korea, Hong Kong, Samoa, the USA, Canada and Georgia. But these wins seem to have done little to allay the concerns that Eddie Jones has regarding the future of Japanese rugby.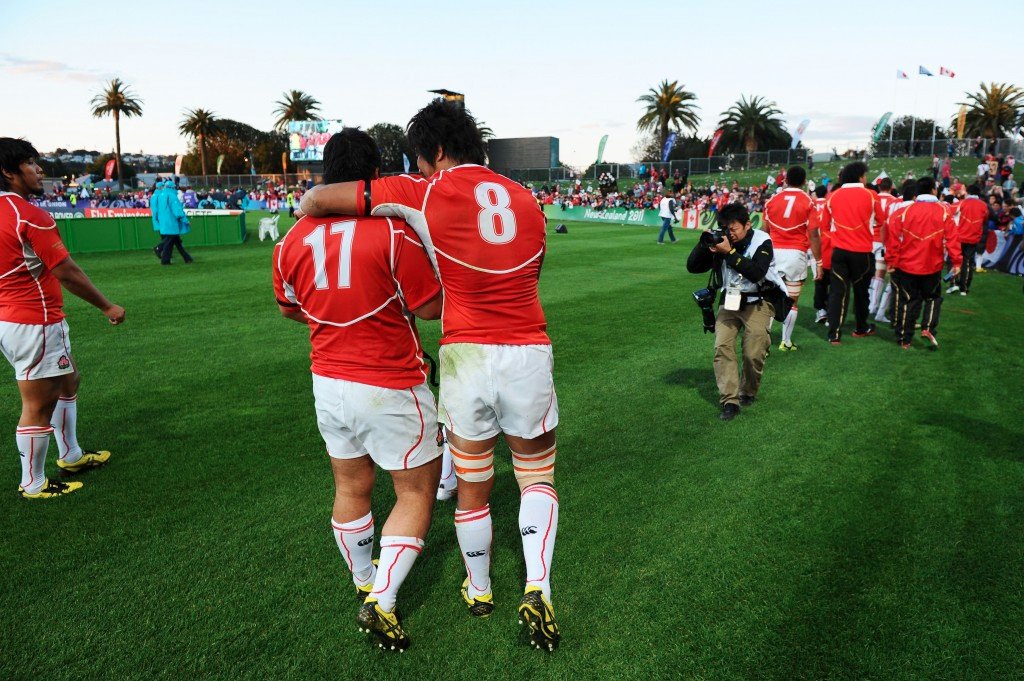 The coach's concerns
Coach Eddie Jones has been critical of the rugby set up in Japan which, he claims, is not organised to produce players that can compete at international level. He believes that strength and conditioning programmes at junior level are inadequate, leaving the players badly exposed at international level, and that too many players focus on domestic success, not realising the huge gulf that exists between success at domestic level and success on the international stage.
Foreign imports and overseas contracts
Jones has seen leading overseas players take up contracts to play in Japan, giving local players the chance to learn from the Likes of Sonny Bill Williams and Jerome Kaino. Jones has also helped expose Japanese players to overseas tournaments, mainly the Super XV, where players have benefited immensely from high intensity matches and training.
Halfback Fumiaki Tanaka has played for Super XV side the Highlanders while hooker Shota Horie played with the Melbourne Rebels. For the 2015 season, the Rebels recruited prop Keita Inagi while the Waratahs signed South African-born back Kotaro Matsushima. The Chiefs recruited Japan captain and No 8 Michael Leitch. and Western Force signed high flying winger Akihito Yamada.
Each of these players have gained invaluable experience from the Super XV and will no doubt provide the national squad with big performances in important positions. Their input may not be enough to give Japan the success it craves at the 2015 RWC but with Jones' vision, several players performing well in the Super XV tournament and the support of sponsors like Canterbury of New Zealand, we should see rugby's popularity rise in Japan and the national side should become more competitive.