How do you feel when you put on an Irish rugby jersey?
As kit supplier to the squad, we want the team to feel strong, confident and proud to be representing their country on the world stage, and it's our job to make sure they feel that support, but don't feel overwhelmed by the pressure.
"They need a jersey that can do everything for performance, but that holds a message reminding the player why they are there," says Giles Emson, Licensed and Teamwear Product Manager for Canterbury. "The jersey needs to ignite the player's passion and pride for their nation and enhance their belief that they are the best they can possibly be."
So how do you wrap all those emotions up in one jersey?
Rugby is one sport that brings the island of Ireland together. While it's the case that in many sports the Republic of Ireland and Northern Ireland compete as two separate nations, in rugby, there's one team, and one national pride.
"We wanted to weave that feeling of pride and patriotism in to the design of the Rugby World Cup 2019 jersey," says Giles. "To represent this we've chosen a graphic that uses a medieval Irish alphabet called Ogham Script to spell out the word 'Aontacht'."
Translating as "Unity" this design symbolises the unique removal of boundaries and coming together of two nations to represent Ireland as one island in the sport of rugby. The unity of the team as one Ireland, the unity of the squad as they pull together to perform on the sport's biggest stage, and the unity with the fans and the sport as a whole, who will all be there in Japan for the unmatched love of the game.
"It's this spirit that we want to ignite in you when you pull on the jersey and proudly wear the IRFU badge."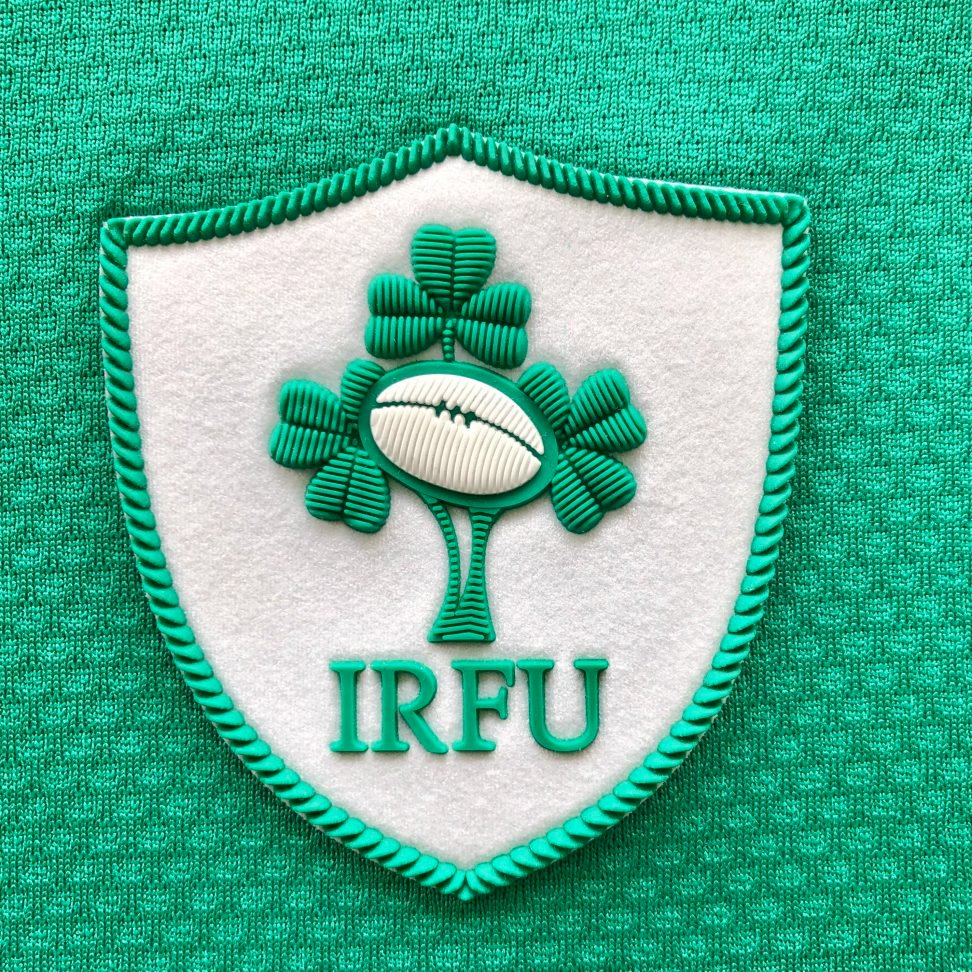 Enhancing the tradition of embroidered logos, this year our design team evolved this historic part of the jersey with the hyper-realistic 3D silicon crest. Positioned over your heart, each individual element of the IRFU shamrocks are injected moulded, retaining the authenticity of traditional embroidery but with a far greater intricacy and clarity in the logo.
Embossed and embedded into the fibres of the jersey, this iconic emblem of Irish rugby history reinforces the values of strong family spirit and pride. Unmistakably Irish, when you wear the shamrocks, everyone know who's side you're on.
Of course, green is the core colour of the jersey and the range embodies everything that makes an Irish team, and Irish fans, stand out.
Shop the new Irish Rugby World Cup Jersey here.