From the grass roots to Six Nations, if you look at a rugby pitch there will be players wearing football boots. Basketball players don't wear running shoes – why is rugby different? The needs of our game are different to that of football, but not enough is being done for players. Something has to give, so we set ourselves on a mission 3 years back to change the game when it comes to rugby boots.
CAN YOU MAKE THE FASTEST PLAYERS, FASTER?
CAN YOU DO IT IN A BOOT THAT STANDS UP TO RUGBY'S DEMANDS? 
These were the questions we asked ourselves when we looked to refresh our Speed boot line. What we knew was that football boots don't offer the stability, comfort or durability that modern players need. They looked good, were light and tight; but that's it.
The reality was we needed some additional expertise to trial and test our theories, and see if we could develop a product that's fit for the highest levels of the game.  
Everything about this @FalconsRugby try! 🤩

Adam Radwan with the acrobatics to get over the line 👌#GallagherPrem pic.twitter.com/oIigZYGodM

— Rugby on BT Sport (@btsportrugby) April 21, 2023
We brought in the likes of Adam Radwan, Ellie Kildunne and Jodie Ounsley to work alongside our product team and design something that was specific to the sport.
"I need a lightweight design so I can be as fast as possible. It's got to be comfortable and tight-fitting to feel secure when changing direction." Ellie Kildunne
"I want to look, and feel fast" Adam Radwan
So we got to work.
AI DESIGN BROUGHT TO LIFE
We turned to the power of Artificial Intelligence to drive the boot's 3D design, optimising every area to remove unnecessary weight.
Staying true to a design inspiration that questions the nature of speed and the distinctions between real and virtual, we combined the digital with traditional techniques to create a precise hand-crafted last profile.
Taking the feedback from elite-level athletes throughout, the hand-crafted profile was tried, test and fashioned to allow for full ankle extension and flexion when pushing off the line or putting boot to ball.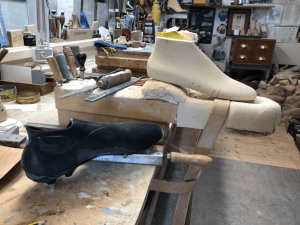 28% LIGHTER
Reducing weight to optimise speed potential is paramount when it comes to the core design of the Speed Infinite Elite and crucial in all aspects of the new boot.
An ultra-lightweight monomesh upper and VAPOSKIN membrane is combined with AI reaction-diffusion stitch application, to fully enhance the strength of the boot whilst further stripping out unnecessary weight.
The boot profile has been crafted into a streamlined, sleek fit for minimum energy loss and faster acceleration, all while not compromising on comfort and durability through the rigours of the game.
The outcome is the lightest boot we have ever made, with the FG coming in at 28% lighter than previous Speed models, but vitally not compromising durability.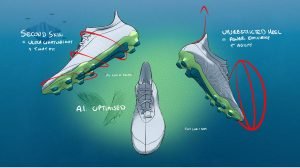 FLIGHTBEAM
Taking further inspiration from nature, the FLIGHTBEAM outsole was devised from the shape of a Furcula (or wishbone) and provides extra reinforcement and stiffness, supporting the midfoot and boosting explosivity as you accelerate off the mark.
Produced from a 97% bio-based outsole with Pebax® RNEW® material made from castor bean oil, FLIGHTBEAM reinforces the integrity of the midfoot and allowing explosive energy transfer through acceleration.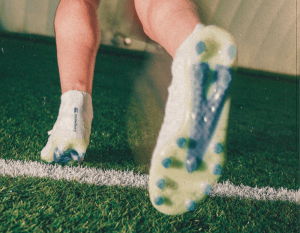 THE END RESULT
Stronger. Lighter. More sustainable.
An out of this world boot that defies the traditional conventions of rugby, optimised for speed to both feel and look fast.
You can check out the full Speed Infinite Range here and take your game to the next level.