Did you know that 1 in 4 people will experience mental health struggles around the UK? What about the fact that 1 in 5 rugby athletes wouldn't seek help from anyone if they had a problem or were upset? That's a third of any rugby team. The Rugby Players' Association also found that 62% of retired rugby players have suffered from mental health issues. Of this 62%, nearly half played at international level.
For Mental Health Awareness Week 2022, we look at four professional players taking the lead when breaking the stigma and speaking about these issues. Discover their mental health awareness quotes and stories alongside the people and organisations paving the way for clubs, coaches, players, and the wider sport to talk – and take action – around mental well-being.
Jonny Wilkinson
In 2003, World Cup winner Jonny Wilkinson seemed to have the world at his feet. He'd kicked a right-footed drop-goal just 26 seconds from the end of the World Cup, instantly becoming one of the UK's most-loved sportsmen.
Wilkinson seemed the epitome of calm and control on the pitch. But behind the scenes, he was struggling. "I was a shivering wreck", says Wilkinson to the Express. "I had times when I'd be speaking to my family before England games […] where I was inches away from going to tell the coach I couldn't play. Make up an excuse not to. That was the state I was in. It was pure panic. Chaos."
Wilkinson's professional days came with a fear of failure and an insurmountable amount of pressure – a weight he admits he often placed on his own shoulders. He waited for a feeling of joy that he says never came. When he won the World Cup, Wilkinson's anxiety was at its peak. This then spiralled into depression.
For Wilkinson, opening up about mental health is a sign of strength, not weakness. "It's one of the most courageous ways of seeking true potential", he said to Gabrielle Fagan. "There should never be a stigma about it."
Since hanging up his boots in 2014, Wilkinson has spoken publicly and openly about his panic attacks, depression and darkest days. While everyone wants to be at the top of their physical game in sport, Wilkinson argues that when it comes to mental health, "everyone just wants to cope. We're missing a big opportunity there."
Wilkinson is now an advocate for anxiety awareness and regularly details the mindfulness techniques that have helped him. He continues to challenge the stereotypes surrounding men's mental health that discourage sufferers from seeking help.
Very moving reflections from @JonnyWilkinson just then on ITV, in conversation with @BearGrylls, about the obsession and compulsion he felt early in his career and the stresses that put on his mind and body. So good that we now have these open conversations about mental health.

— Lewis Wiltshire (@LewisWiltshire) March 16, 2021
Joe Marler
 Marler has spoken candidly about his mental health issues, particularly in the documentary Big Boys Don't Cry. For Marler, the expectation for him to be an alpha male, and the biggest and most aggressive guy in the room, was something he struggled with when it came to his life at home. In the Joe Marler documentary, the Harlequins star says: "We must show no weakness or vulnerability in order to win. But it doesn't have to be like that off the pitch."
For Joe Marler and rugby, the pressure of failure and not meeting expectations weighed heavily throughout his career. He'd cry in the car on the way to training and explode with anger at home without knowing where to turn for help. Talking to GQ, Marler says: "I guess I don't know what I'd be like without rugby, but has rugby made me suppress these feelings I had? Probably."
"I realised I needed to open myself up", said Marler on an episode of the England Rugby Podcast: O2 Inside Line. "I needed to allow myself to experience these things in order to move forward." Marler found that therapy, medication and talking to his wife and close friends have helped him understand what was going on. "It is important to talk and open up", states Marler.
Like Wilkinson, Marler believes that mental health needs to be as easy to understand as physical health. "It's just harder to measure", he says on the podcast. "Physical health, you know when you're run down, you can feel it…Now I do stuff to make my mental health be in a good place, as opposed to a bad place – which it still can do at times." Marler now runs a podcast, The Joe Marler Show, helping him and all men speak about how they're feeling.
Jamie Acton
 For Jamie Acton, exercise and playing rugby helped him get through dark days with his mental health. "It was the only time I felt happy", Acton's said about exercise to ITV News. However, at just 27, the rugby league player suffered a career-ending spinal injury that left him feeling suicidal. "I think, as a rugby player and athlete, you forget how much of your identity is wrapped up in what you do for a living", he told Josh McAllister. "And when that's taken away from you, it cripples you."
Without rugby, Acton felt his life lacked focus – something retired players have also found negatively affects their mental health. So, Acton now advocates for athletes putting things in place for life after sport.
"We're told to be strong, carry on, don't cry – and in the rugby world, this is even more true."
 Jamie Acton
Acton has also explained how his appearance and reputation have made it more difficult to speak out. "To many, my appearance and size translates to strength, and it's tough for people to understand that I may be battling some serious mental health issues", he told Charles Graham. "That goes for many men. We're told to be strong, carry on, don't cry – and in the rugby world, this is even more true."
Training and exercise helped Acton get to a better place to deal with his injury and move forward. He's now on a mission to provide tools that help others in similar struggles. That's why he's launched Banish (an app supporting CALM) to help break down the stigmas around male mental health and support others with similar battles. Banish helps people rid the demons in their heads through exercise, encouraging positive mental well-being via working out. He's also collaborating with youth groups to show how exercising can be as beneficial for the mind as it is for our bodies.
Hannah Tyrrell
"It's the best thing I've ever done, and it's made me want to speak out more", Tyrrell told The Irish Times about opening up about her mental health struggles. The rugby player tackled an eating disorder from 12 years old and self-harmed to the point where she ended up in A&E. "I kept that to myself because of the stigma that's out there", she said on The Football Pod.
As a teenager, Tyrrell regularly bottled up her feelings and struggles. "I was afraid that there was nobody that could help me". However, through talking to doctors and counsellors, she developed positive coping strategies ‌she can utilise whenever negative thoughts appear.
And for Tyrrell, like Acton, sport was where she could let everything go. "It genuinely saved me", she's said. In 2014, Tyrrell made her debut during the Amsterdam leg of the Women's Sevens World Series. However, the daily weigh-ins proved a potential trigger for her eating disorder.
But, with the help of talking to friends and family and drawing on her coping strategies, Tyrrell could work on her mental strength and overcome any setbacks. Instead, she saw the weigh-ins as evidence of her progress. As a result, in 2015, Tyrrell made her full international debut in Ireland's 2015 Six Nations opener.
 "No matter what tough times you're going through, there is help out there."
Hannah Tyrrel.
"It's absolutely okay not to be okay", says Tyrrel about an Instagram post she published showing 'Instagram versus reality'. She's now a face of 'Tackle Your Feelings', the Irish Rugby Union Players' Association's mental health campaign. She's also an ambassador for Pieta House. "No matter what tough times you're going through, there is help out there", she's said. "I now know the value of talking, and I know it's one thing that will make me feel better."
Of course, these aren't the only professional players opening up about mental health. James Haskell, Tom James, Keith Earls, Taz Bricknell, Andy Titterrell, and more, are helping to shift the dial for rugby and speaking about mental health.
"Helping to create a shift in the sport"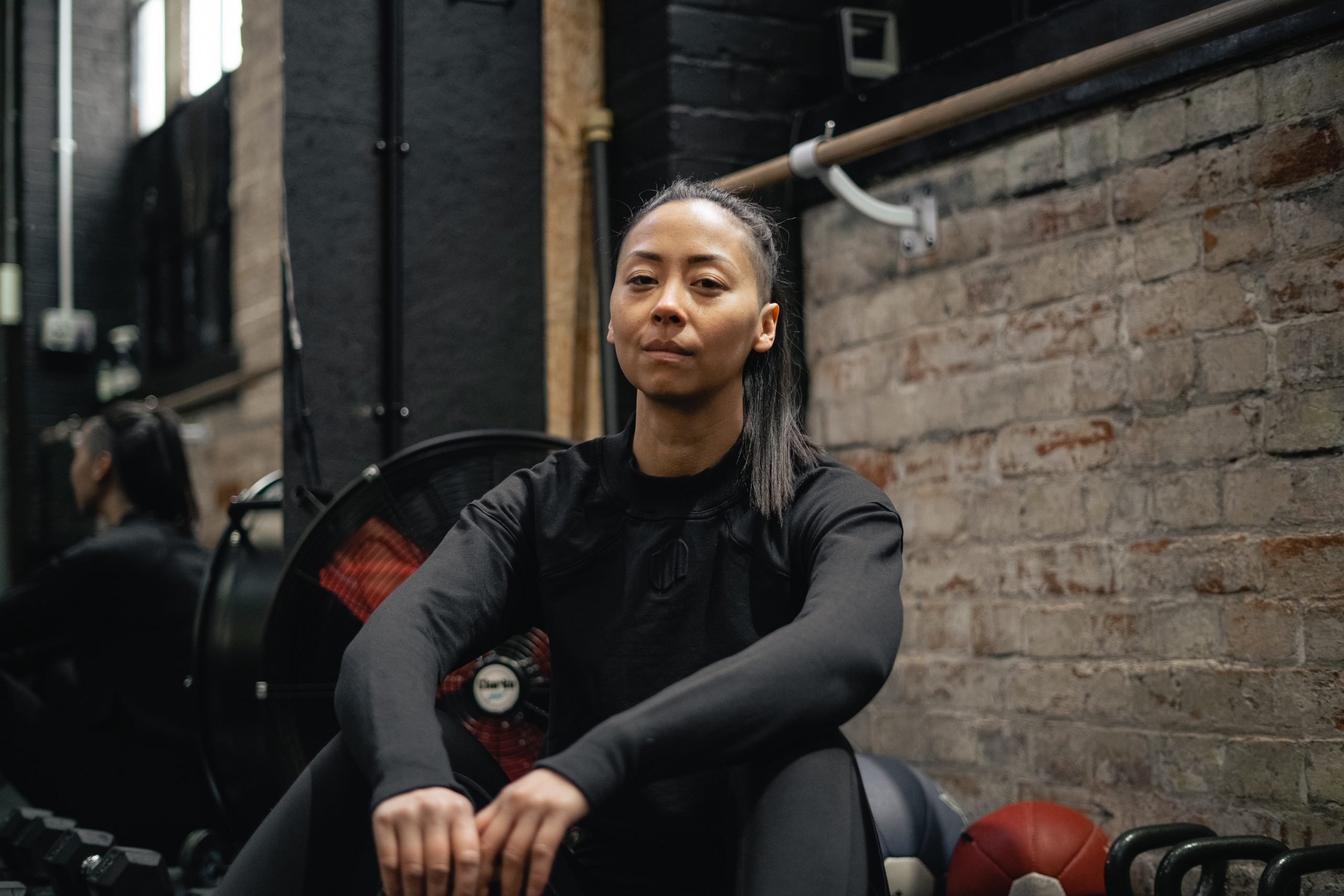 But how important is it that professional players speak out about their mental health? After all, these are people willing to talk about it publicly while hundreds more feel like they can't. "It's vitally important", says Tessa Beecroft, Founder and Director of Give A Ruck, which aims to raise awareness around mental health in rugby.
"Being an athlete also involves recognising your mental well-being."
Tessa Beecroft, Give A Ruck.
"By sharing their experiences, they're helping to create a shift in the sport", she tells us. "For the new cohort of pro players […current professional players are] paving the way for them to continue challenging stereotypes and allowing them to understand that being an athlete also involves recognising your mental well-being." Indeed, professional players discussing these issues help show that mental health can affect anyone. By talking about their mental health struggles, they reinforce that opening up and seeking help is nothing to be ashamed of. Even more so, it shows that these issues can be managed and overcome with the right tools.
Recognising and speaking about mental health is something Tessa feels passionate about. In 2015, Tessa was diagnosed with generalised anxiety disorder and severe depression. Since then, she's been very open about her journey and uses exercise, fitness and cold-water swimming as tools to manage her well-being. "I simply felt compelled to be open about my experiences in the hope that it made a difference to someone who might have been in a similar situation", says Tessa.
Tessa's openness encouraged players to talk about their thoughts and feelings in her physio room, where she worked as a rugby-specific sports therapist for 12 years. "The basis for all triggers is that feeling of pressure or stress", says Tessa. "Whether that's at elite level or community grassroots level, everyone experiences pressure or stress in a variety of ways."
"I wanted to create a platform that would act as a voice for players."
Tessa Beecroft, Give A Ruck
However, when the players left the physio room, "it was as if that conversation never happened", says Tessa. "I wanted to create a platform that would act as a voice for players outside of the physio room, on the pitch and off the pitch. That was how Give A Ruck was born."
The Give A Ruck Pledge helps clubs start those important conversations. And it goes one step further by providing training so that a positive culture around mental well-being exists in clubs. The pledge involves three elements:
Appointing a club ambassador who acts as a communication link between Give A Ruck and the club.
Making sure that at least one club member has completed the Mental Health First Aid training.
Completing the #GiveARuck conversation workshop, which covers how to break down stereotypes within rugby, how mental health might affect rugby performance, who to go to for support, how to reach out to teammates, and more.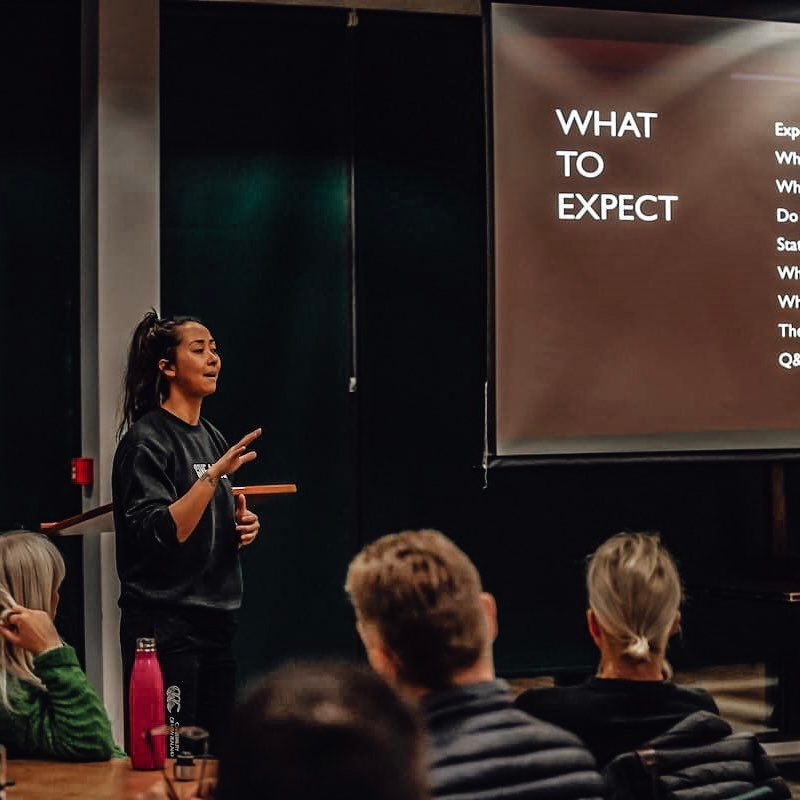 On the pledge's completion, Give A Ruck collaborates with the club to develop a mental health policy that sits alongside the player welfare policy. They'll then continue to work with the club each season.
"Older players want to become more involved to start those conversations – they've experienced or seen some of their teammates or younger club members struggling", says Tessa. Other ages are also keen to know more about mental health awareness and get involved.
University students are making what Tessa calls "huge shifts" within rugby culture and rugby player mental health. "[University students are] embedding this within their team committees and ensuring Welfare Officers are appointed as well as Give A Ruck ambassadors." This #GiveARuck ambassador scheme forms part of the next exciting steps for the organisation. It allows players to apply for the position of #GiveARuck ambassador like they would a treasurer or captaincy role.
"If someone comes to you wanting to speak about their mental health, its shows that they trust you and want to reach out", says Tessa. "That trust is a wonderful thing, and just being about to give your time and the ability to let them talk about how they're feeling could make a real difference."
As well as supporting players, Give A Ruck wants to support coaches, medical staff, referees, and young people. "There are stereotypes attached to rugby both within the women's game and the men's game. With regards to those, that needs to change to create a more positive culture", says Tessa. Give A Ruck's overall mission is to make sure every rugby club has a mental health first aider.
For Jonny Wilkinson, it's incredibly important to talk and share experiences. But, as he explained to The Irish Times, "we have to get to a point where we're asking: 'What next?'" within sport and mental health.
Professional players are certainly opening the door for normalising conversations around mental health. However, it's organisations and people like Tessa who are helping to implement the answers to that 'what next? question. And where they take the lead, others will surely follow.
Please know that you are not alone. If you or anyone you know needs urgent support, please speak to a family member or friend, or seek advice and support from your GP. There are also fantastic mental health organisations with helplines, support, and guidance. These include The Samaritans, MIND, Rethink, Shout or Calm.